Lake Seminole is a 38,000 acre sportsman's lake located in south Georgia near Bainbridge Georgia. It is surrounded by private property and state owned wildlife management land.
Aaron Crews and his associates have fished and hunted the Lake Seminole area for over 30 years. Our specialty is bass fishing. We are equipped with a fully rigged Triton bass boat that can easily accommodate two fisherman.
During the winter months we offer duck hunting on Lake Seminole.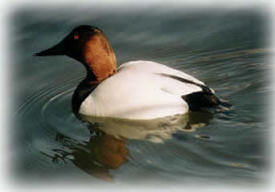 Canvasback Ducks
Lake Seminole is home to one of the largest wintering populations of Canvasback Ducks east of the Mississippi River.
We also have Bluebills, Redheads, Ringnecks, Wood Ducks and Teal.
We also offer float trips on the Flint River for Shoal Bass.
For the Best Hunting an' Fishing at Lake Seminole in south Georgia...
Call us today 229-416-9294
OR Utilize our Contact Form to